same deal as the kennebago muddler, tying some for the shop and figured I might as well do a tutorial on it as well.
Tie in oval tinsel. Wrap body forward being watchful for gaps between wraps. Leave a little extra room there for your throat wing and collar
Tie in natural brn bucktail throat. I find that the diameter of the oval tinsel has a tendancy to flare the hair here so I make my final wraps just back over the body. This will get covered up later by wing and collar
Tie in a single teal flank feather flat over the hookshank. It needs to be narrow and run straight. Nice, even tips and bold banding help. You want the feather to cup or shroud the sides of the fly.
note how I take the stem and fold it back over and tie it down some more. This really helps prevent the wing from pulling out. You can add a dollup of cement here if you'd like, but it isn't necessary if you are using enough thread tension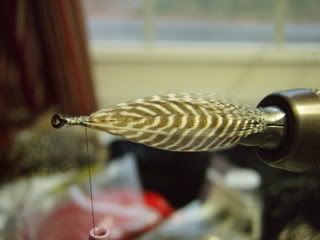 wrap grizzly collar hackle. I really like using the webbiest stuff I can get
the original pattern called for the top of the hackle to be trimmed off. As it was intended to imitate a golden stonefly, this was probably due to wanting the hackle to emulate legs and not be to thick and also to give the fly a narrower profile
finished: