Tailwater Lodge Altmar New York
Reviews by Kevin McKay
Tailwater Lodge Altmar New York I have been going to the Salmon River in New York for over ten years. If you do not know what the Salmon River is about and you are a fisherman, you are seriously missing out. The river has huge runs of King Salmon, Coho...
A Weekend Get Away with My Husband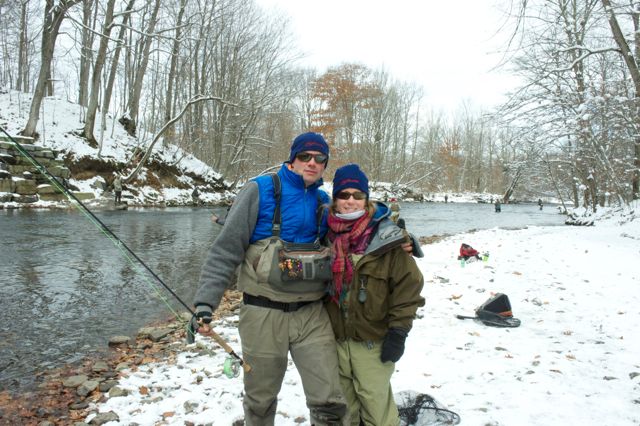 McKay's Fishing Adventures
As we arrived at 4:00 in the morning on Friday, the snow was falling relentlessly outside the entrance of the Tailwater Lodge in Altmar, New York.
Great Fall Fishing - Miramichi Salmon Galore!!
Sponsor Fishing Reports
Miramichi Fishing ReportCharlie Mosher, Albuquerque NM                       Ron Halick, Jersey City, NJ       ...
Latest Maine Fly Fish Video
Stream Flows
Stream/River
Date : Time
Flow
Penobscot Lower W BR, MCKAY STN, Ripogenus Dam*
01-01
Allagash River near Allagash
01-27 13:00
Ice
Fish River near Fort Kent
01-27 12:45
Ice
St. John R below Fish R @ Ft Kent
01-27 13:30
Ice
Grand Lake Stream
01-27 13:00
Ice
Dennys River at Dennysville
09-30 23:45
1010
Narraguagus River at Cherryfield
01-27 13:00
Ice
E Branch Penobscot R at Grindstone
01-27 13:30
Ice
Piscataquis R near Dover-Foxcroft
01-27 12:30
Ice
Penobscot River at West Enfield
01-27 13:30
Ice
Kennebec River @ The Forks
01-27 13:15
Ice
Kennebec River at Bingham
01-27 13:15
5730
Androscoggin R at Errol, NH
01-27 13:15
2660
Androscoggin R near Gorham, NH
01-27 13:15
3040
Wild River at Gilead
01-27 12:45
Ice
Mousam R at Rte 4 near Sanford
01-27 12:45
Ice
Mousam R near West Kennebunk
01-27 12:45
134
Salmon River, NY at Lighthouse Hill*
01-01
Reserved
http://www.h2oline.com

Streamflow information at this site is provided from data from USGS sites and Dam operators. Maineflyfish.com does not guarantee that this data is accurate or is the latest readings. As always, approach running water with caution. Latest Info:

USGS website | Dam Ops Flow Hotline [1-800-557-3569]

* Provided by Waterline
Other Maine Fly Fish Videos
Maine Fly Fish