I Love Surprises
A.L. Poland
This has been a very busy summer for me.  Trying to juggle work, painting, shows, family, and fishing has been difficult.  In the past, I have been the only one in my family that fishes, aside from taking my kids here and there.  Well as some...
Adventures in Florida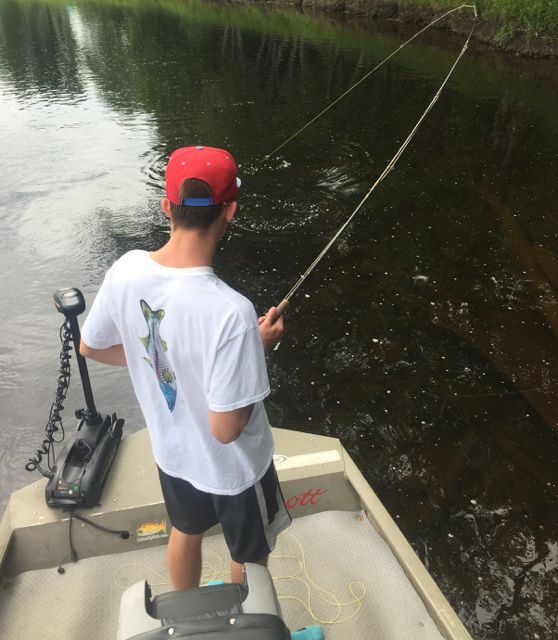 McKay's Fishing Adventures
With summer coming to a rapid end for my boys and school starting soon, I wanted to get a day in of fishing. So we headed to the Penobscot and camp for some fishing and bonding time.
Miramichi Summer Salmon fishing... Best in Ages!!
Sponsor Fishing Reports
Miramichi Summer Salmon fishing... Best in Ages!  August 21st 2015              August 21st - For approximately a month, from mid-July to mid-August, we enjoyed some of our most consiste...
Welcome to the Tenkara Blog!
Tenkara Blog
Glad you found the Tenkara blog, my name is Dan Pierce and I live in central Maine with my wife, son, and yellow lab.  Everyone says no matter where you grow up in Maine you get exposed to the water early on wether it is the ocean on the coast, the...
Tailwater Lodge Altmar New York
Reviews by Kevin McKay
Tailwater Lodge Altmar New York I have been going to the Salmon River in New York for over ten years. If you do not know what the Salmon River is about and you are a fisherman, you are seriously missing out. The river has huge runs of King Salmon, Coho...
Dragon Fly
Maine Hatches
Latest Maine Fly Fish Video
Stream Flows
| | | |
| --- | --- | --- |
| Stream/River | Date : Time | Flow |
| Penobscot Lower W BR, MCKAY STN, Ripogenus Dam* | 09-03 22:56 | 2052 |
| Allagash River near Allagash | 09-03 23:00 | 872 |
| Fish River near Fort Kent | 09-03 22:45 | 895 |
| St. John R below Fish R @ Ft Kent | 09-03 23:30 | 3530 |
| Grand Lake Stream | 09-03 23:00 | 137 |
| Dennys River at Dennysville | 09-30 23:45 | 1010 |
| Narraguagus River at Cherryfield | 09-03 23:00 | 69 |
| E Branch Penobscot R at Grindstone | 09-03 22:30 | 836 |
| Piscataquis R near Dover-Foxcroft | 09-03 22:30 | 171 |
| Penobscot River at West Enfield | 09-03 22:30 | 7870 |
| Kennebec River @ The Forks | 09-03 23:15 | 1470 |
| Kennebec River at Bingham | 09-03 23:15 | 1450 |
| Androscoggin R at Errol, NH | 09-03 23:30 | 562 |
| Androscoggin R near Gorham, NH | 09-03 23:15 | 1140 |
| Wild River at Gilead | 09-03 22:45 | 21 |
| Mousam R at Rte 4 near Sanford | 09-03 22:45 | 24 |
| Mousam R near West Kennebunk | 09-03 22:45 | 27 |
| Salmon River, NY at Lighthouse Hill* | 09-03 00:01 | 335 |
Streamflow information at this site is provided from data from USGS sites and Dam operators. Maineflyfish.com does not guarantee that this data is accurate or is the latest readings. As always, approach running water with caution. Latest Info:

USGS website | Dam Ops Flow Hotline [1-800-557-3569]

* Provided by Waterline
Other Maine Fly Fish Videos
MidCurrent
row1
Maine Fly Fish