By Kevin McKay
edited by Jennifer Bowman-McKay
My first time is something I will never forget. I was in my 20's and this was totally new to me. I wanted to try it and wanted it bad. I know it was late in life for my first experience but it is just how it worked out. It was early on a dark and cold April morning. I woke at 1 am as the excitement was over- whelming. As I laid there, I thought to myself, should I do this? It is awful early. Will she wake up? I don't think she was as excited as I was. I slowly reached for the zipper of the old bag, I slowly unzipped it and reach my hand inside to find the long soft hairs of the fly I had been working on all winter. I really didn't want to wake Jen (now my wife), but I was heading out on my first fly fishing trip.
It all started about six month prior to that morning, Jen and I had stopped over to my parents' house and my dad pulled out some catalogs a guy at work had given him. They were fly fishing catalogs. I think at that point I became addicted to the catalogs themselves, it was a toy store for adults. Not long after I found myself and Jen with my parents at a L.L. Bean outlet, where I purchased a Stream Light, rod, reel and line for $75. The rod is long gone but I was cleaning my office recently and saw that I still have the reel, which is very cool, not much use to me now but it will live on a shelf in my office.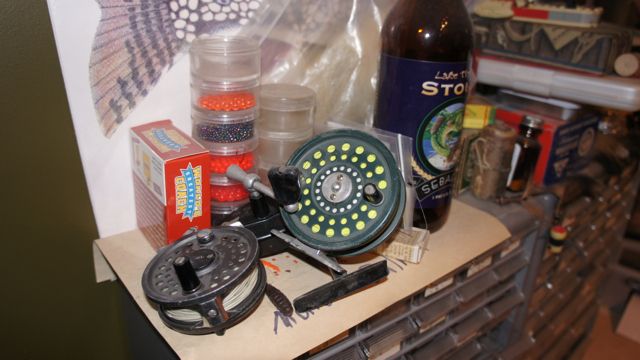 So, over the winter I remembered going to a fly tying class with my dad when I was little. I asked him if he still had all the stuff. Which he did, so I dug it all out and started trying to tie flies, which were very rough, to say the least. Some were big streamers, looking back now they were like salt water flies, I wish I still had some of those.
Also, over the winter I was working at UPS as a loader and somehow my driver and I got talking about the fact I had bought a fly rod and had no clue what to do with it. He explained that he fly fishes all the time and had done a trip to Montana. He brought in some pictures of these big beautiful trout he had caught on his trip. He told me he would take me on April 1st, since that was when the West Branch of the Penobscot River opened.
So, it was April 1st, sometime in the early 90's. Mike had me meeting him around 1 in the morning; I was not sure why, but I went with it. You could feel the excitement in the air as we drove and he told me fishing stories. One that sticks out is when he and his brother drove from the West branch over to Greenville in a blizzard and how deep the snow was but they made it. I think of that story every time I drive across that road.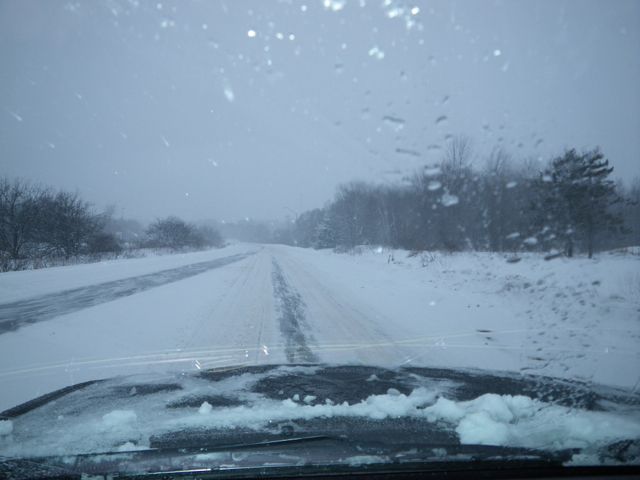 When we arrived it was dark and cold, and there was also a lot of snow on the ground. Now I am thinking, what have I gotten myself into? Up to this point I was just getting back into fishing, since I took some time off to chase women, which is a good thing I did, because I would have never met my hot wife. Back to the story, I don't think I even had gloves, but we waited until the sun came out. So, on the trip up Mike revealed the reason we left so early was to beat the crowds. Well, that was not an issue. I think everyone knew, what we didn't, it would be too cold and most of the fish weren't up as high on the river yet, that early in the season. But this does make for a great memory.
I remember the crunching of the snow as we walked to the river. Mike gave me a fly, might have even tied it on for me. He demonstrated how to cast, do this and this and he proceeded to head down river. I was in a beautiful spot. It was cold but I did what he said; I cast and cast and cast. Then it began to snow as I was really thinking now this fly fishing isn't any fun. Man, I couldn't wait for him to come back from where ever he went. He could have been laughing in the warm truck for I knew.
So, a few hours later he came back to check on me. Did I mention, it was snowing sideways? He asked if I had any luck which I hadn't. So, he checked my fly. Well, at some point in the past few hours, I was just having casting practice because my fly had broken off in the snow. At this point I was done and I doubted I would be fly fishing again, but on the way home he convinced me to go again with him on May first.
So, there I was again, getting up so early that most people call it night. I met him and his buddy at his house, we drove the two hours. I will say it was warmer and all the snow was gone but, we still arrive in the dark. On the way, I show them my striper flies I had tied for this trip, they both laughed at me and said no fish would even look at those flies.
As we walked to the river in the dark, I could hear a splash and as we sat there and it got lighter out, I could could hear the splashing getting more frequent. I asked what it was? Mike said it was fish jumping and as the sun came up he was right. I have never forgotten that scene; the light just coming off the water and land locked salmon rising everywhere!
I knew right then I would never be the same again.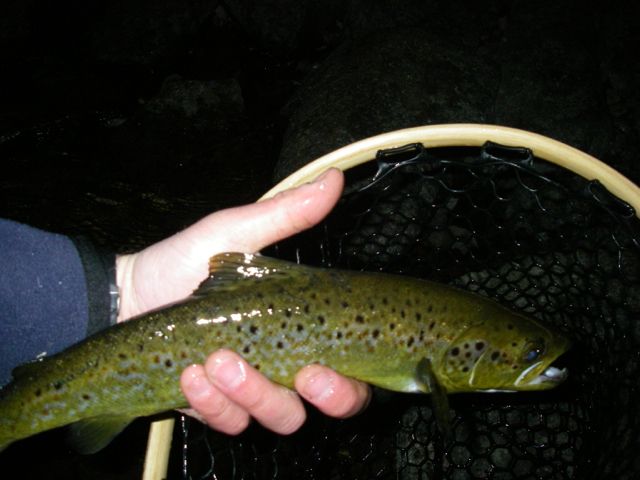 I was going to end right there but I forgot about those giant streamers. After missing several fish on BWO, I decided to try that awful fly of mine. I made several casts and to their surprise, I had several fish chase it to my feet. If I remember right, my first fish I ever caught was a 12 inch salmon on that god awful fly I tied. Like I said, I wish I still had one of those flies but live and learn. As I sit here writing this, it is November and there is frost on the cars, this memory has gotten me excited to get up to the West branch early this year, I better start tying some #20 bwo, because I still loose my flies in the trees and snow.